"PEKERE-TESHI!!!"




Oh no! This article is a

stub

!

It can be improved in areas such as grammar, style, wiki-formatting, spelling and expanding.


Help the LocoRoco Wiki and Pekeroné by

editing this article

!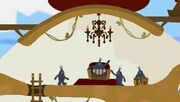 The MuiMui King is a character first introduced in LocoRoco 2.
Description
The MuiMui king is a fat MuiMui wearing red and white striped pants.
He lives in BungaBongo. He teaches LocoRoco skills, like swimming, high jumps, pulling out Doonga Doonga and clinging and jumping from one place to another.
Appearances
His first appearance is at Franzea 1, where he will teach you to enter different cavities or holes. His final appearance as a skill teacher is at CaloCaro 2, which he will appear after entering a hole and clinging and jumping around dancing Nyokki. He will teach you the hardest skill from him, the High Jump ability. Once succeed, he will no longer appear at missions. But he appears as the place in the 'Memories', in BungaBongo. His throne is also in BungaBongo, and it is located at the MuiMui House.
Characters
LocoRocos
Kulche
Viole
Budzi
Pekeroné
Chavez
Priffy
Tupley
Creatures
Intro. in LocoRoco
MuiMui 
 Chuppa 
 Nyokki 
 Pickory 
 Koona 
 Hohoh 
 Kelakera 
 Unphook 
 Gamumuht 
 Domingo 
 Sir Sun 
 Lady Moon 
 Cocoreccho
---
Intro. in LocoRoco 2
Olmee  
  Doonga Doonga  
  Afro Nyokki  
  Gnuphik  
  Purilla  
  Moflee  
  Mootohn  
  Hippoli  
  Bolatchio and Putchi  
  Kakaloné  
  Funguropa  
  Donchargo
Enemies
Intro. in LocoRoco
Moja 

 Togeh 

 Bochollo 

 Mooskoos 

 Cappulicho 

 Butraganeau 

 Bonmucho
---
Intro. in LocoRoco 2
BuiBui 

 GiGi 

 Apokay 

 Butra-gabbley 

 Majoliné 

 Galanmar