"PEKERE-TESHI!!!"




Oh no! This article is a

stub

!

It can be improved in areas such as grammar, style, wiki-formatting, spelling and expanding.


Help the LocoRoco Wiki and Pekeroné by

editing this article

!
This is the list of the credits from LocoRoco 2.
LOCOROCO 2 CREDITS
Sony Computer Entertainment Japan
Director
Tsutomu Kōno
Art Director
Keigo Tsuchiya
Assistant Director
Kenji Sakai
Game Design

Tsutomu Kōno, Kenji Sakai, Hiroyo Ikegami, Shunji Ohba,

Hiroshi Tamate

Level Design

Akira Takeuchi, Yoshifumi Morita, Kivi Wakisaka,

Tomohiko Murakami, Satoshi Miyano, Takeshi Okazawa,

Shoji Miyazaki, Kiyoko Koyanagi

Additional Design
René Derks
Character Design
Keigo Tsuchiya, Saeka Horikoshi, Sujung Kim
Character Animation
Saeka Horikoshi, Satoshi Miyano, Sujung Kim
2D Design
Keigo Tsuchiya, Sujung Kim, Ryoko Morita
World Map Animation
Ryoko Morita, Yoshifumi Morita
Tool Script
Takeshi Okazawa, Yoshifumi Morita
Technical Director
Hiroya Matsugami
Lead Programmer
Hiroya Matsugami
LocoRoco Program
Seiji Sasaki
Sub Character Program
Naoyuki Saito
Tool Program
Daisuke Mizuma
Mini Game Program

Noriaki Homan, Hiroshi Watanabe, Naoyuki Saito,
Seiji Sasaki

Network Program
Noriaki Homan, Kaoru Watanabe
World Map Program
Daisuke Mizuma
Additional Programming Support
Jo Oouchi
Original Story
Hiroyo Ikegami, Keigo Tsuchiya, Tsutomu Kōno
CG Movie Direction
Shōjirō Hori
CG Movie Animator and Modeller
Yuko Okumura, Hiroki Hanazawa
IKIF+

Patricia Hishikawa, Momoko Yamada, Yutaka Hamanaka,
Chiaki Kumakura, Junichi Maruyama, Kotaro Shishido

Claymation

Hiroshi Okuda, Momoko Sakaguchi, Soichi Atae,
Kazutomo Fukuda

Localization

Tadaaki Hasegawa, Kenji Sakai, Hiroyo Ikegami,
Saeka Horikoshi, Shunji Ohba, Hiroshi Tamate

Japan Studio Technology Dept. Sound & Video Group
Lead Sound Designer
Tsutomu Fuzawa
Sound Designer
Tomohiro Imura, Ryou Yamamura
Japan Studio Technology Dept. Sound & Video Library Team

Isamu Terasaka, Hiroshi Yamamoto, Mitsuteru Furukawa,

Tomohito Ito, Junichi Komori

Sound Producer
Shinpei Yamaguchi
Composed by
Nobuyuki Shimizu, Kemmei Adachi
Performed by
Nobuyuki Shimizu, Kemmei Adachi
Words by
Tsutomu Kōno, Kemmei Adachi
Music Supervisor
Tomonobu Kikuchi (Sony Music Publishing Japan Inc.)
Recording Director
Tomonobu Kikuchi (Sony Music Publishing Japan Inc.)
Performers

Melody Chubak (Kulche/vocal),
Alex Yamato Flaherty (Kulche/dialog),
Leah (Priffy/dialog and vocal),
Greg Irwin (Tupley/dialog and vocal),
Hiroaki Takeuchi (Pekeroné/dialog and vocal),
Jeff Gedert (Budzi/dialog and vocal),
Tomonobu Kikuchi (Budzi/chorus),
Cameron Earl Strother (Chavez/vocal),
Jack Merluzzi (Chavez/dialog),
Michelle143 (Viole/dialog and vocal),
Rah‑D (Moja/dialog and vocal),
Brenda Vaughn (Majoliné/vocal),
Kemmei Adachi (MuiMui/BuiBui/vocal and etc)
Trivia
See Also
Video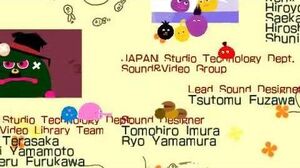 Ad blocker interference detected!
Wikia is a free-to-use site that makes money from advertising. We have a modified experience for viewers using ad blockers

Wikia is not accessible if you've made further modifications. Remove the custom ad blocker rule(s) and the page will load as expected.