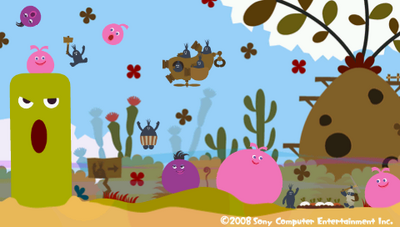 BungaBongo (also known as Nyokki Land) is a place on the world map of LocoRoco 2 and LocoRoco Midnight Carnival.
Environment

BungaBongo has a pale cream ground with occasional patches of grass (although not on Midnight Carnival). The sky is almost similar to Perculoka and in the background are tall green plants and cacti.
Locations
The tutorial of LocoRoco 2 is set in BungaBongo and the 3rd stage in Midnight Carnnival is a certain part of BungaBongo called Nyokki Land, full of Nyokkis. The MuiMui House on LocoRoco 2 in also in BungaBongo. In addition, one of the three levels that come with the BuiBui level pack, downloadable from the Playstation Store for Midnight Carnival, is called 'BungaBongo 1'. In this level, almost all of the characters that appear in the series are seen.
Trivia
Ad blocker interference detected!
Wikia is a free-to-use site that makes money from advertising. We have a modified experience for viewers using ad blockers

Wikia is not accessible if you've made further modifications. Remove the custom ad blocker rule(s) and the page will load as expected.