"PEKERE-TESHI!!!"




Oh no! This article is a

stub

!

It can be improved in areas such as grammar, style, wiki-formatting, spelling and expanding.


Help the LocoRoco Wiki and Pekeroné by

editing this article

!
"
The little Nyokki found an afro! MuiMui wants one too!
"

— Description in the

Stamps

at Page 7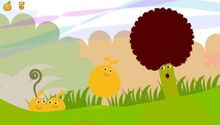 Afro Nyokki is a creature that first appeared from LocoRoco 2, where he has two appearances.
In his first appearance, he is a green Nyokki, with a huge brown afro on his head. When first found, he is low to the ground, but hitting him twice makes him say "Aha!" in a very feminine voice, as well, as stick up out of the ground. When hit a third time, he pokes out of the ground at his highest, and says something like "Matsubai!" while sinking to the ground, with white smoke coming out of his head. His afro also pops off, which you can ride in the smash rocks.
In his second appearance, he has a much smaller body, and a much bigger afro, which is lumpy and has flowers on it.
Appearance
His appearance bears a striking resemblance to the Angry NyoNyokki but with a brown afro on top.
Personality
Afro Nyokki is said to be a friendly character, but his eyes usually look fairly annoyed at the LocoRoco.
LocoRoco Characters
LocoRocos
Kulche

Viole

Budzi

Pekeroné

Chavez

Priffy

Tupley
Creatures
Intro. in LocoRoco
MuiMui 
 Chuppa 
 Nyokki 
 Pickory 
 Koona 
 Hohoh 
 Kelakera 
 Unphook 
 Gamumuht 
 Domingo 
 Sir Sun 
 Lady Moon 
 Cocoreccho
---
Intro. in LocoRoco 2
Olmee  
  Doonga Doonga  
  Afro Nyokki  
  Gnuphik  
  Purilla  
  Moflee  
  Mootohn  
  Hippoli  
  Bolatchio and Putchi  
  Kakaloné
Enemies
Intro. in LocoRoco
Moja 
 Togeh 
 Bochollo 
 Mooskoos 
 Cappulicho 
 Butraganeau 
 Bonmucho
---
Intro. in LocoRoco 2
BuiBui 
 GiGi 
 Apokay 
 Butra-gabbley 
 Majoliné 
 Galanmar
Ad blocker interference detected!
Wikia is a free-to-use site that makes money from advertising. We have a modified experience for viewers using ad blockers

Wikia is not accessible if you've made further modifications. Remove the custom ad blocker rule(s) and the page will load as expected.